We tested this married dating website
The only thing that wasn't a secret about this site is that it isn't any good. It is not one of the better sites that we reviewed for sure. It was a great disappointment to us. It had all the makings of something really great, but it just didn't have the follow through needed. The latest graphics, it looked like a great site. It also had a great way to navigate around, but there were many features that were lacking. It is a site that caters to married people as the site name indicates, but what we found is that there just wasn't a lot of action. It didn't seem as if anyone was really contacting anyone else. We got lackluster responses, and barely any contact requests coming our way either. We put out our standard email material and profiles and they just never got anywhere. Like watching tumbleweeds rolling, it was pretty much a dead zone.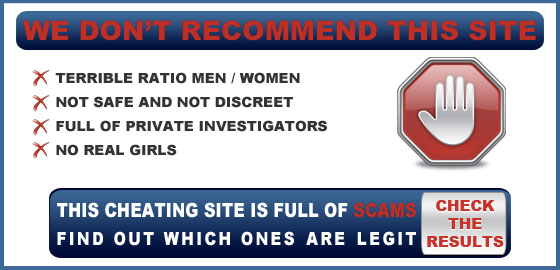 What is a good cheating dating site?
The thing that makes for a good site is the way that it catches on and the amount of people who are on it. That is something that was definitely lacking on LikeToCheat. It just didn't seem to have the buzz that other sites had. The profiles were nothing to write home about and neither were the women that we saw. Lonely housewife doesn't really describe what we saw, it was just nothing too excited. It wasn't that the women weren't beautiful, they just weren't anything dynamic. Even those who were, we got the impression that they were just half into the whole thing.
Some married sites are more like window adornment. Many married people go to the site just to see what it has to offer. Others will even go so far as to sign on and make a profile. That is what this site had. It had mostly window shoppers that had no intentions of following through. It made them feel good to reach out, but they didn't really have it in them to go any further. The women were about a 5 on the scale, but that doesn't really matter because of the emails we sent out we only got a 25% response rate and not one single one went anywhere further.
LikeToCheat.com Features
They had all the features available that make a site good, but they just couldn't ever seem to get it together or get it going. You had the option to email, IM, chat, or video chat, but there never seemed to be any chatting going on. This was the by far the least exciting site on the internet that we reviewed. It was if you opened the site and it literally sighed from boredom.
The one thing that always concerns us because of our past is a site having a good privacy policy. This site faired pretty good in that area. When you sign up you are able to try a free trial offer. That is a great feature to get to know what you are in for. For this site it is even greater because you would know right up front it wasn't the right one for you. Once you are ready to take your membership to the next level you are able to sign on at different levels. The price is pretty middle of the road, but considering that there isn't anything going on, it makes you wonder what you are paying for at all.
There are many options to pay for your bill and when you do they do a fair job keeping your anonymity. Being able to pay through Paypal and other clubs, means that you don't take a huge chance of getting caught. It you are looking for a site that makes you want to take any chance at all, this is not the one. Although it would be harder for your spouse to see what you have been up to, if this is the site you chose you won't have to worry because chances are good you won't be up to anything at all. Not one of the best sites we reviewed, we recommend that you go with another site. You may not get caught on LikeToCheat, but the only secret that it keeps is where you are supposed to actually find the women you want to have an affair with. Out of all the sites this one gets the big snore award. You want to definitely give it a pass.